Cistoskopija je postupak koji omogućava lekaru da pregleda sluznicu vaše bešike i cev koja prenosi urin iz vašeg tela (uretru). Šuplja cev (cistoskop) opremljena sa kamerom se ubacuje u vašu uretru i polako se postepeno napreduje do bešike.
Cistoskopija se može obaviti u dnevnoj ambulanti, koristeći lokalni anestetik ili se može obaviti sa sedacijom.
U Atlas opštoj bolnici cistoskopiju izvode specijalisti urlogije ass dr sci med Uroš Babić i dr Nikola Lukač. Cena cistoskopije u lokalnoj anesteziji iznosi 18.000 dinara a cena cistoskopije sa analgosedacijom iznosi 23.000 dinara.
Vrsta cistoskopije kojoj ćete biti podvrgnuti zavisi od razloga vaše procedure.
Zašto se izvodi cistoskopija
Cistoskopija se koristi za dijagnostiku, praćenje i lečenje stanja koja pogađaju bešiku i uretru. Vaš lekar može preporučiti cistoskopiju da:
Istraži uzroke znakova i simptoma. Ovi znakovi i simptomi mogu uključivati krv u urinu, inkontinenciju, prekomernu aktivnost bešike i bolno mokrenje. Cistoskopija takođe može pomoći da se utvrdi uzrok čestih infekcija mokraćnog sistema. Međutim, cistoskopija se generalno ne radi dok imate aktivnu infekciju urinarnog trakta.
Dijagnostikuje bolesti bešike ( rak mokraćne bešike, kamenje u bešici i upalu bešike – cistitis ).
Leči bolesti bešike. Specijalni alati se mogu provući kroz cistoskop da bi se tretirala određena stanja. Na primer, veoma mali tumori bešike mogu biti uklonjeni tokom cistoskopije.
Dijagnostikuje uvećanu prostatu. Cistoskopija može da otkrije sužavanje uretre gde prolazi kroz prostatu,  što ukazuje na povećanu prostatu (benigna hiperplazija prostate).
Vaš lekar može da sprovede drugu proceduru pod nazivom ureteroskopija  istovremeno sa cistoskopijom. Ureteroskopija koristi uređaj manjeg opsega da pregleda kanale koji nose urin iz bubrega do mokraćne bešike.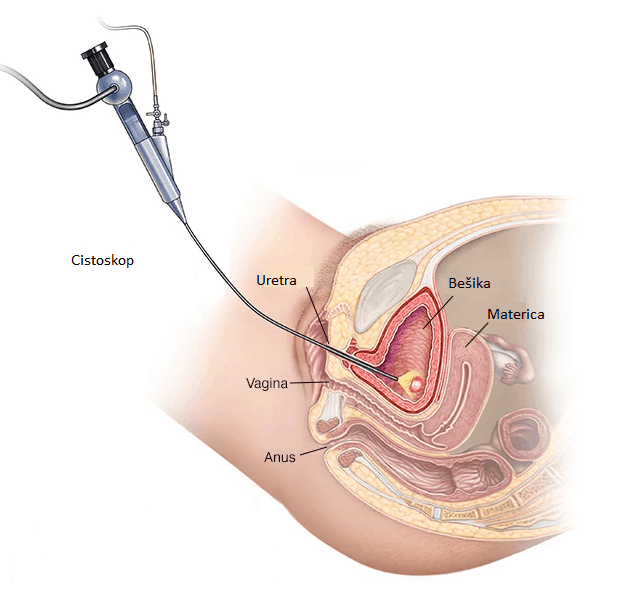 Kako se pripremiti za cistoskopiju
Možda ćete morati da:
Uzimate antibiotike. Vaš lekar može da vam prepiše antibiotike koji se uzimaju pre i posle cistoskopije, posebno ako imate problema da se izborite sa infekcijama.
Sačekate sa pražnjenjem bešike. Vaš lekar može da naloži test urina pre cistoskopije. Sačekajte sa pražnjenjem bešike dok ne dođete na pregled u slučaju da ima potrebe za uzorkom urina.
Priprema za analgosedaciju i anesteziju
Ako primite intravenski sedativ ili opštu anesteziju tokom cistoskopije, planirajte unapred vaš oporavak. Moraćete zamoliti nekoga da vas odveze kući.
Šta možete očekivati tokom cistoskopije
Jednostavna ambulantna cistoskopija može trajati pet do 15 minuta. Kada se radi u sali sa sedacijom ili opštom anestezijom, cistoskopija traje oko 15 do 30 minuta.
Procedura cistoskopije pratiti ovaj proces:
Od vas će se tražiti da ispraznite bešiku. Onda ćete leći na sto na leđa. Verovatno ćete biti postavljeni tako da noge postavite u držače i sa savijenim kolenima.
Možda će vam biti potreban sedativ ili anestetik. Ako dobijete sedativ, osećaćete se pospano i opušteno tokom cistoskopije, ali ćete i dalje biti svesni. Ako dobijete opštu anesteziju, nećete biti svesni tokom procedure. Obe vrste lekova se mogu dati kroz venu u vašoj ruci.
Lekar će uvesti cistoskop. Na vašu uretru se nanosi gel kako bi se sprečio bol kada se uvede cistoskop. Nakon nekoliko minuta čekanja da anestetik deluje, vaš doktor će pažljivo umetnuti cistoskop u vašu mokraćnu cev, koristeći najmanji mogući opseg. Instrumenti većeg opsega mogu biti potrebni da bi se uzeli uzorci tkiva ili da bi se uveli hirurški alati u bešiku.
Lekar će pregledati vašu uretru i bešiku. Cistoskop ima objektiv na kraju koji radi kao teleskop kako bi uvećao unutrašnje površine uretre i bešike. Vaš lekar može da postavi specijalnu video kameru preko objektiva kako bi reprodukovao slike na ekran.
Vaša bešika će biti napunjena sterilnim rastvorom. Rastvor uveća (naduva) bešiku i omogućava vašem lekaru da bolje vidi unutrašnjost. Kako se mokraćna bešika puni, možete osetiti potrebu za mokrenjem. Bićete ohrabreni da to uradite kada se postupak završi.
Mogu biti uzeti uzorci tkiva. Lekar može uzeti uzorke tkiva za laboratorijsko testiranje ili izvršiti razne druge procedure tokom cistoskopije.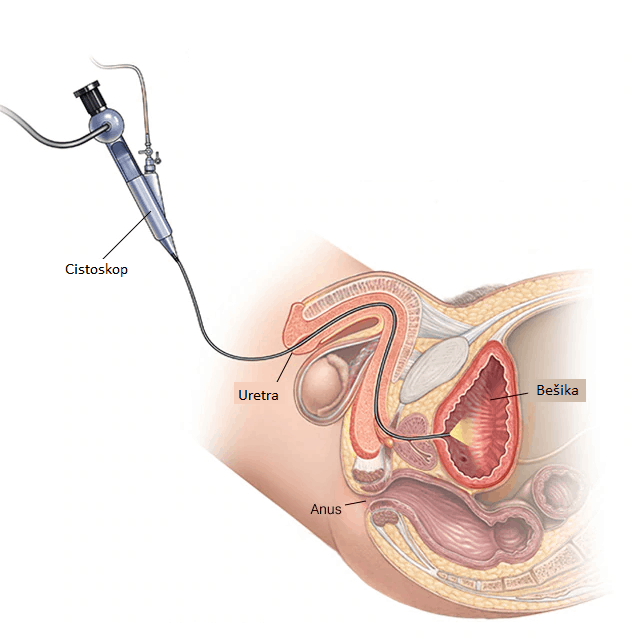 Šta možete očekivati nakon cistoskopije
Moći ćete da nastavite svoju dnevnu rutinu. Ukoliko ste bili podvrgnuti sedaciji ili opštoj anesteziju, bićete zamoljeni da kratko ostanete u bolnici do potpunog oporavka.
Nakon cistoskopije može doći do neželjenih efekata, kao što su:
Krvarenje iz mokraćne cevi, koje može izgledati jarko ružičasto u urinu ili na toaletnom papiru.
Peckanje tokom uriniranja
Češće mokrenje narednog dana ili dva dana
Kako bi se osećali bolje možete:
Držite toplu, vlažnu krpu preko otvora do vaše mokraćne cevi kako biste ublažili bol. Ponovite po potrebi.
Napravite toplu kupku. Međutim, Vaš lekar može zatražiti da izbegavate  kupanje. Pitajte svog doktora ukoliko imate nedoumicu.
Pijte vodu. Ispiranje mokraćne bešike može smanjiti iritaciju. Pokušajte da popijete do 500 mililitara vode svakog sata tokom prva dva sata nakon cistoskopije.
Pozovite svog doktora ako imate bilo kakvih nelagoda nakon cistoskopije.
Rizici cistoskopije
Komplikacije prilikom cistoskopije mogu uključiti:
Retko, tokom cistoskopije se mogu uvesti bakterije u urinarni trakt, uzrokujući infekciju. Da biste sprečili infekciju, lekar vam može propisati antibiotike pre i posle cistoskopije. Faktori rizika za razvoj infekcije urinarnog trakta nakon cistoskopije uključuju godine, pušenje i neuobičajenu anatomiju u vašem urinarnom traktu.
Cistoskopija može izazvati krv u vašem urinu. Ozbiljno krvarenje se javlja retko.
Može se javiti bol u stomaku i osećaj pečenja prilikom mokrenja. Ovi simptomi su uglavnom blagi i postepeno se smanjuju nakon zahvata.
Znaci i simptomi ozbiljnijih komplikacija
Pozovite svog lekara ili idite u najbližu hitnu pomoć ako imate:
Nemogućnost mokrenja nakon cistoskopije
Jarko crvenu krv ili krvne ugruške u urinu
Bol u stomaku i mučninu
Drhtavicu
Temperaturu višu od 38.5 C
Bol ili peckanje tokom uriniranja koje traje duže od dva dana
Rezultati cistoskopije
Vaš lekar će moći da razgovara o rezultatima odmah nakon vaše procedure ili će možda morati da sačeka ukoliko je vaša cistoskopija uključivala prikupljanje tkiva (biopsiju) za testiranje tumora mokraćne bešike, taj uzorak će biti poslat u laboratoriju. Kada se testovi završe, vaš lekar će vam reći rezultate.
Pozovite naš call centar na telefon 011 785 88 88 i rado ćemo odgovoriti na sva vaša pitanja.
Cena cistoskopije
Najpovoljnija cena cistoskopije u lokalnoj anesteziji iznosi 18.000 dinara a cena cistoskopije sa analgosedacijom iznosi 23.000 dinara. 
The post Cistoskopija po ceni od 18.000 dinara appeared first on Atlas Opšta Bolnica.
Source: Atlas opšta bolnica, https://atlasklinika.com/