Zubi se mogu izgubiti iz više razloga: usled karijesa, truljenja kanala u korenu, paradentoze, povrede zuba ili urođenih defekata.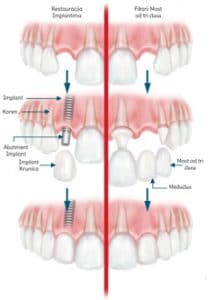 Baš zbog toga što se implantati implementiraju u vilicu, oni pružaju stabilnost i podršku za veštačke zube. Zubne proteze i mostovi koji se montiraju na različite vrste zubnih implantata se neće klizati ili pomerati u ustima, posebno tokom jela ili govora. Sigurna baza omogućava postavljanje proteza ili mostova, kao i pojedinačnih kruna koje se montiraju na njih. Za neke ljude obični mostovi i proteze jednostavno nisu udobni ili su čak i bolni usled bolnih tačaka ili loše krivine desni. Osim toga, obični mostovi moraju biti pričvršćeni za zube sa obe strane nedostajućeg zuba.
Kod postavljanja zubnog implantata nijedan zub ne mora da se brusi kako bi se nadomestio nedostajući zub. Implantati ostavljaju osećaj prirodnijih zuba i udobnosti. Kako biste postali kandidat za zubne implantate, potrebno je da između ostalog imate zdrave desni i odgovarajuću gustinu kosti.
Postoje razne vrste zubnih implantata koje zavise od različitih veličina i visina, uključujući kako standardne tako i uže, odnosno manje. Stručnjak za implantate će vam pomoći prilikom određivanja odgovarajućih implantata koje su ispravne za vas. Više od 60 kompanija proizvodi različite vrste zubnih implantata od različitih vrsta materijala. Rezultat toga je obilje opcija koji stomatolozi poseduju kako bi identifikovali najodgovarajuće vrste zubnih implantata koji su potrebni pacijentima. Međutim, budite svesni da ako vam implantate ugrađuje jedan, a na popravku odete kod drugog stomatologa, vaš novi zubar može imati ograničeno iskustvo u pogledu te vrste zubnih implantata ili ne može pristupiti tom materijalu ili komponentama koji je koristio prethodni zubar.
The post Kako to funkcioniše kod zubnih implantata? appeared first on Stomatološka ordinacija – mr sci. dr Mirela Cvjetković – DDS.
Izvor: Dr Mirela Cvjetković, http://dentaltourism.rs,