Ako imate čestu potrebu za mokrenjem – posebno ako se zbog toga često budite preko noći – to bi mogao biti znak dijabetesa. Bubrezi rade punom parom kako bi se rešili viška glukoze u krvi, pa imate veću potrebu za pražnjenjem. Preterana žeđ znači da vaše telo pokušava da nadoknadi izgubljenu tečnost. Ova dva simptoma idu ruku pod ruku i jedan su od načina na koje telo samo pokušava da reguliše nivo šećera.
Gljivične infekcije
Dijabetes povećava osetljivost na različite infekcije, a najčešće su gljivične. Posebno žene moraju paziti na infekciju kandidom.
Umor i razdražljivost
Ustajanje zbog odlaska na WC učiniće vas umornim, kao i dodatni napor koje telo ulaže da nadoknadi gubitak glukoze. Umor će vas učiniti razdražljivim.
Gubitak težine
Preterano visok nivo šećera u krvi može dovesti do naglog gubitka težine, na primer 5 do 10 kilograma u dva ili tri meseca – a to nije zdravo mršavljenje. Telu stižu signali da gladuje i ono počinje da uzima proteine iz mišića kao alternativni izvor energije. Bubrezi takođe rade preterano jer žele da uklone višak šećera, što dovodi do gubitka kalorija (i oštećuje bubrege).
Glad
Preterani osećaj gladi je još jedan znak dijabetesa, a dolazi zbog velikih skokova nivoa šećera u krvi. Kada nivo šećera strmoglavo pada, telo misli da je gladno i žudi za glukozom koja je ćelijama potrebna za funkcionisanje.
Problemi s kožom
Svrab kože, kao rezultat suve kože ili loše cirkulacije, često može biti upozoravajući signal za dijabetes, kao i drugi problemi s kožom, poput tamnih mrlja na koži oko vrata ili područja pazuha.
Sporo zaceljivanje
Infekcije, posekotine i modrice koje ne zaceljuju brzo, su još jedan znak dijabetesa. To se događa jer su krvni sudovi oštećeni zbog prekomerne količine glukoze koja putuje kroz vene i arterije.
Mutan vid
Zamućen vid i povremeni svetli bljeskovi su direktan rezultat visokog nivoa šećera u krvi. Visok nivo glukoze u krvi menja oblik sočiva i oka. Dobra vest je da se simpotom povlači čim se nivo šećera vrati u normalu. Ali, ako se ne leči dugo, može da izazove trajna oštećenja, pa čak i slepilo.
Trnjenje ili utrnulost
Trnjenje i gubitak osećaja u rukama i nogama, zajedno s bolom ili otokom, znak je da su nervi oštećeni zbog dijabetesa. Ako su simptomi novi, veća je verovatnoća da će se povući usled adekvatnog tretmana. Ipak, kao i kod vida, ako visok nivo šećera u krvi dugo deluju na nerve, može ih i trajno oštetiti.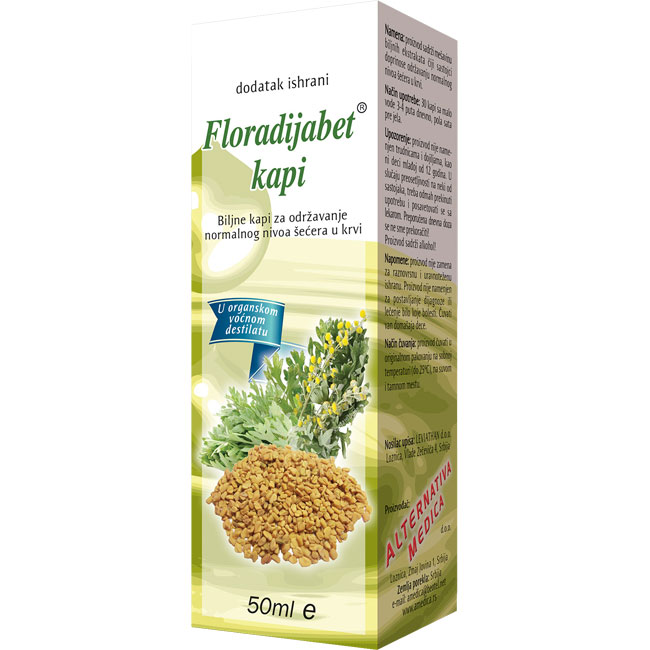 Floradijabet biljne kapi, u svom sastavu imaju biljke koje pored tradicionalne upotrebe, predstavljaju i naučno potvrđenu kombinaciju biljaka koje regulišu šećer u krvi.
Floradijabet kapi su 100% prirodni biljni preparat na bazi grčkog semena, pelina, artičoke i koprive, rađene sa organskim voćnim destilatom.
Floradijabet biljne kapi pored smanjenja, odnosno normalizacije nivoa šećera u krvi, pozitivno deluju na sve metaboličke procese u organizmu, pa se upotrebom ovih kapi istovremeno reguliše i nivo holesterola i masnih materija u krvi.
Članak Prepoznajte simptome dijabetesa se pojavljuje prvo na Mediflora.
Source: Mediflora, http://mediflora.rs/