Nova metoda saniranja oštećene hrskavice kolena
Doktore Gavriloviću recite nam šta je to revolucionarno po pitanju lečenja kolena?
Radi se o jedinstvenom implantu u Svetu koji je napravljen od korlala koji dolazi iz Južnog mora koji prisustvom argonita u sebi ima  multipotentna svojstva da privuče hrskavičaste ćelije iz zdravog tkiva oko sebe koje prekrviaju implantat.
Mi trenutno učestvujemo u velikoj studiji i imamo odlične rezultate. Ova studija sporvodi se u 45 zemalja uključujući i SAD sa odobrenjem američke agencije za hranu i lekove. Značajno je istaći da je ovo prvi put da se u privatnoj bolnici u Srbiji izvodi jedna ovakva studija pod pokrivetljstvom američke agencije za hranu i lekove FDA.
Imate problema sa kolenom, boli vas, slaba vam je pokretljivost, povredili ste se ili degenerativne promene i kilogrami uzimaju danak.
U poslednjih 5 godina operisano je više od 120 pacijenata a 97% operisanih ima fantastične rezultate. Ovo je veoma značajno zbog sportista jer se više od 90% operisanih sportista vraća na teren i nastavlja nesmetano da trenira.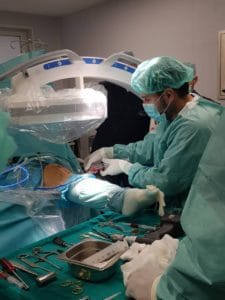 Dr Nir možete li nam reći nešto više o implatnu od korala?
"Razvili smo implant koji može da regeneriše hrskavicu i kost  unutar kolena.  Pokrivamo različite patologije od izolovanih defekata do teških degenerativnih promena kolena.  U Srbiji je naše implatne primilo više od 150 pacijenata i veoma smo zadovoljni rezulatima kao i radom srpskih hirurga. Veština i znanje vaših hiruga je na veoma visokom nivou i nadam se i ubuduće ovako dobroj saradnji sa dr Gavrilovićem i timom Atlas opšte bolnice", rekao je dr Nir Altušer (osnivač i direktor Karti-Hill/ Carti-Hill kompanije)
Kada ste kandidat za ovu metodu saniranja oštećene hrskavice?
Svi pacijneti od 18-60 godina sa ozledama hrskavice, sa oštećenim pokrivačem hrskavice unutar kolena ali ne difuzne osteoartrite, ne kolena koja su totalno oštećena, mi možemo da rešimo veoma dobro sa ovim implantom. Naravno  postoje neki određeni uslovi, da ne bude velika gojaznost, da nema nekih težih bolesti.
Najbolji pacijenti za ovo su oni koji imaju svežu leziju hrskavice, sportisti, ljudi do 30-40 godina koji na ovu vrstu lečenja reaguju fantastično.
Ova metoda je iznad svih ostalih sigurno 10 godina u budućnosti. Ne očekujem da će ona još ući u komercijalnu upotrebu sigurno 3-4 godine. Potrebno je završiti celu studiju, operisati više od 1000 pacijenata širom sveta, treba završiti sve dozvole koje su u radu i očekujem da će biti u Srbiji u komercijalnoj upotrebi za 3 godine.
Pacijenti koje smo operisali pre 5 godina, čije stanje detaljno pratimo nisu nam prijavili nikakve probleme, a naš tim je prezadovoljan.
Difuzne osteoartritične promene koje su zahvatile čitavo koleno nisu za ovu metodu, u tom slučaju primenjujemo druge vrste hirurgije koja može da spreči bol jer je kod takvih pacijenata bol je najveći problem.  Ovo je metoda koja se koristi kod izolovanih lezija gde možemo da rešimo problem gubitka hrskavice  površine 2-3 cm2 koje kasnije vodi ka tom kolenu o kojem pričamo kao osteoartritično kod starijih ljudi. Ukoliko se problem reši u tom dobu, mi smo onda izbegli protezu kolena.
Ukoliko se javite na vreme, ova metoda će vam pomoći da zauvek sačuvate svoje koleno. Atlas je prva privatna bolnica u Srbiji koja je uključena u studiju pod pokroviteljstvom i kontrolom FDA agencije  – hiruršku studiju priznatu u čitavom svetu.
The post Prva studija pod pokroviteljstvom FDA u Srbiji – implant od korala leči koleno appeared first on Atlas Opšta Bolnica.
Izvor: Atlas opšta bolnica, https://atlasklinika.com/,